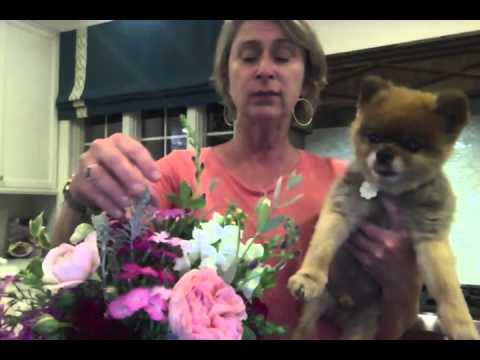 I posted a picture on Facebook of this garden bouquet which I gathered tonight. I adore the David Austin roses sent to me from the company almost 5 years ago. Spring is so hopeful in the yard while everything is blooming. Just have to keep the momentum going through summer!
In the video you will see what stems I chose tonight, and a few ideas on what to plant from seed. Easy seed planting ideas are…
Zinnias—try different varieties and colors. This year I've continued last years' theme of "romance"– lavender, pinks, corals in addition to the vibrant colors–red, yellow and purple. I love the Benary Giant variety which produce dahlia sized flowers and are stunners in bouquets through summer into fall.
Cosmos--again, experiment with 'Double Click', 'Sensation Mix' and 'Versailles Mix' for a light, airy addition to summer arrangements.
Celosia–this is one of my favorites– either the 'Cramers' or 'Chief' varieties or BOTH!  Very unique flower heads and just a good feathery stem for bouquets.
Sunflowers— I buy them in bulk at Johnny's Selected Seeds online.  Take your pick or buy a mix.
I'll be blogging more about my garden & garden bouquets this summer because it keeps me on my toes!!
Especially if you are asking me what I am growing!!
Keep me posted on your garden. 
Thank you for stopping by. 
ML